Ex-convicts, former gang members and recovered drug addicts chronicle a single journey of triumph by breaking out of their self imposed imprisonment and addiction and breaking in to Hollywood as artists

MUGSHOTS
By: Jonas Mohr and Jason Porath
Publisher: Real Deal Entertainment
Review – LA Opinion Newpaper
"Surviving street violence, family disintegration, poverty, alcoholism, institutional abuse, and drug addiction is a challenge that many human beings aren't able to overcome. Most die trying. However, the artists selected to participate in this book, both alarming/touching and at the same time full of hope, demonstrate that it is possible to go to hell and come back with the heart full of life, without losing any piece of soul in the journey. Presented in black and white, avoiding to resort to gray tones or moderate whites, the powerful images captured by Jonas Mohr's cameras correspond perfectly with the simple and honest texts redacted/written by Jason Porath that accompany the photographs that illustrate these pages. All of it serves to remind us that the paths to reach Hollywood and to succeed in the film industry continue as mysterious and unfathomable as they have always been."
Photo by Photographer
and Co-Creator of Mugshots,
Jonas Mohr
---
Mugshots: A Celebration of the Journey from Ruin to Redemption (
Mugshots website
) won the 2008 Independent Publisher Awards. The IPPY awards recognize excellence in independent publishing and Mugshots was selected from over 3,200 entries and 2,500 publishers in seven countries.
Mugshots was singled out for an Outstanding Achievement Award and won for "Most Life-Changing Book of 2008" An awards ceremony was held in Los Angeles in June, 2008 during the Book Expo America, the largest book trade show in the world.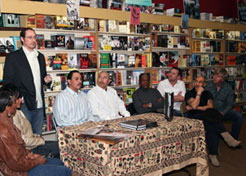 Mugshots co-creator Jason Porath, actor Emilio Rivera, Suspects Ent. manager Manny Jimenez, actor John Wesley, Mugshots co-creator/photographer Jonas Mohr, Ty, and co-creator Tom Moyer.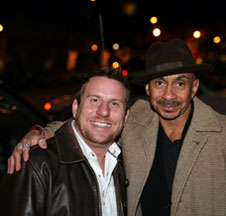 Book Signing at the world famous bookstore, Esowon Books…. Ty (right) stands with Mugshots photographer and co-creator, Jonas Mohr (left)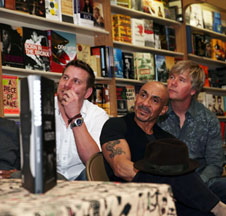 Ty (center) sits between Mugshots creators Jonas Mohr (left) and Tom Moyer (right) during a Q&A at the Esowon Book Store signing
Ty (far right) stands with Mugshots creators (from left to right) Tom Moyer, Jason Porath, and actor Emilio Rivera who's also included in Mugshots